The Academy in conjunction with UNSW and CEPAR, is pleased to present the 2013 Keith Hancock Lecture by Scientia Professor John Piggott, a Fellow of the Academy of the Social Sciences in Australia.
Population ageing has challenged the standard 20th century retirement income paradigm, which relies on ever-growing payrolls to finance retirees. These structures have become unsustainable in many countries, and public promises have not been kept.
In this lecture, the challenges of retirement income provision in an era of demographic ageing are explained, and alternative approaches to the financing and design of retirement incomes are explored. Research analysis will be combined with country experience to argue for a set of policies suitable for this new demographic environment.
About the speaker
Scientia Professor John Piggott FASSA, is Director of the ARC Centre of Excellence in Population Ageing Research at UNSW, where he is Scientia Professor of Economics and Australian Professorial Fellow.He has a long standing expertise in retirement and pension economics and finance, in both the academic and policy spheres. His Australian policy experience includes membership of both the Henry Tax Review Panel and the Ministerial Superannuation Advisory Committee. Internationally, he worked for a decade with the Japanese Government (Cabinet Level) on pension and ageing issues, and has consulted to several other foreign governments. From 2008-2010 he was Visiting Scholar with the Department of Insurance and Risk Management, Wharton School of Business, University of Pennsylvania, and is Visiting Professor at Zhejiang university, People's Republic of China.
Video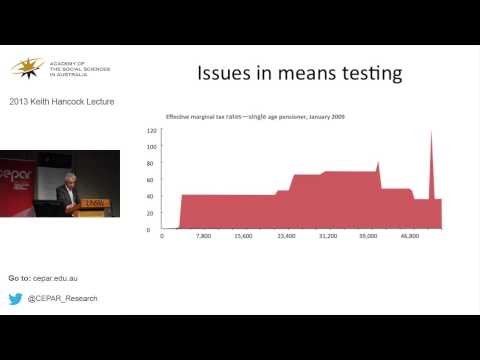 Supporting Documents